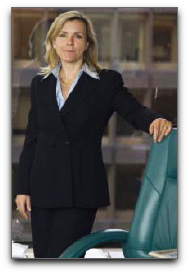 [SatNews] Newtec has announced that Brigitte Boone, formerly the CEO of the Merchant Banking division of the Fortis Bank – and an Executive Board member – has joined Newtec as a member of its Strategic Committee.
Boone
joins
Newtec
with extensive knowledge of banking, corporate and structured finance, tax and legal issues across a wide international market place. She has also led international project teams covering mergers and integrations and has an experience as board member in a wide variety of sectors, including technology, media, retail, real estate and food.
Boone
becomes the second external member of the
Strategic Committee
, following the appointment last year of
Martin De Prycker
, the former CEO of
Barco
. Prior to this Mr.
De Prycker
had been a long standing member of
Alcatel
, where she founded the ADSL Broadband products division as well as holding the position of Chief Technology Officer. In 2002, he became CEO and board member of Barco.