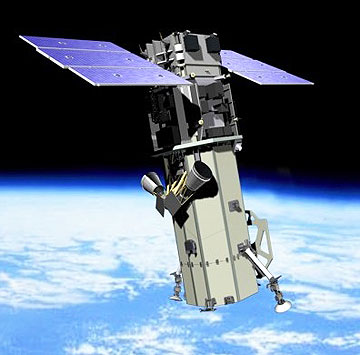 [SatNews] A major milestone has now been completed for this EO satellite...
ITT Corporation
(NYSE: ITT) reached a key milestone with the successful completion of the
Critical Design Review
(
CDR
) for the imaging payload for
WorldView-3
,
DigitalGlobe
's high-resolution commercial Earth imaging satellite. WorldView-3 will combine the most productive high resolution commercial sensor subsystem available with a highly accurate and stable optical telescope unit. The recent CDR, conducted at ITT's facilities in Rochester, N.Y., is a key accomplishment for ITT and DigitalGlobe as the WorldView-3 payload program progresses toward delivery in mid-2013. The WorldView-3 imaging system incorporates enhancements to the optics and sensor sub-systems that will further expand the applications for satellite imagery in both commercial and government markets.
Depending on its final orbital altitude, the satellite's sensors will be able to acquire imagery between 25 and 41 cm of resolution. WorldView-3 will also include the panchromatic and unique 8-band multi-spectral imaging sensors that are hallmarks of the advanced WorldView-2 imaging system. The eight spectral sensors provide complete coverage of the visual spectrum, along with two near-infrared bands. Together, the bands are designed to improve the segmentation and classification of land and aquatic features. Ultimately, they provide a more detailed view of the Earth, helping DigitalGlobe customers analyze imagery-based information in completely new ways. ITT and DigitalGlobe's successful partnership spans more than a dozen years. WorldView-3 is the fourth high-resolution imaging system built by ITT for DigitalGlobe. The company built sensor subsystems for DigitalGlobe's QuickBird and WorldView-1 commercial imaging satellites, and the complete imaging payload for WorldView-2.
Ball Aerospace & Technologies Corp
. has been named as the partner to build the spacecraft bus for the WorldView-3 imaging satellite.