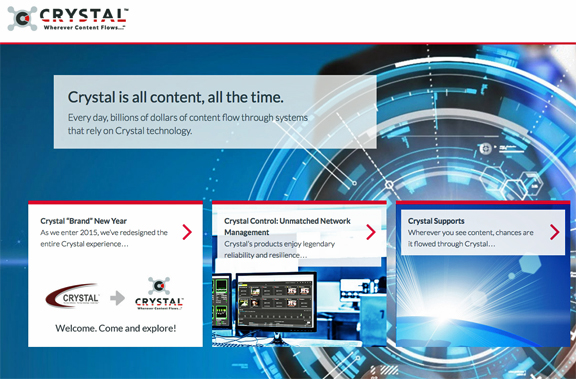 [SatNews] Crystal has announced the launch of new company branding in concert with this new year.

Building on almost 30 years of dedicated experience creating reliable solutions wherever content flows, Crystal has rebranded the company from "Crystal Solutions" to simply "Crystal" and has updated its logo, website and product suite.

During its history, Crystal has worked with a wide range of notable companies throughout the video and satellite ecosystem. Crystal is an expert in building solutions for complex, mission-critical networks and environments. Every day billions of dollars of content flow through satellite, network and cable systems that rely on Crystal technology. The new brand will be on display at the Satellite 2015 show in March. Along with showcasing its new brand, Crystal will demonstrate its range of solutions including Crystal Control, Crystal Spectrum, Crystal Insight and Crystal Carrier ID.

"We are an innovative company in a dynamic industry," said Roger Franklin, CEO, Crystal. "This re-brand reflects our heritage within the industry while reinforcing that Crystal is at the forefront of providing innovative solutions for current and future requirements."

Crystal has experienced steady growth over recent years and has ambitious targets, predicting 400 percent growth in the next six years. Growth will be attained through innovative products, solutions and services that enable clients to manage their complex networks while providing the flexibility they need to adapt to the rapidly changing and evolving media environment.
For a look at the new Crystal, please visit http://crystalcc.com/