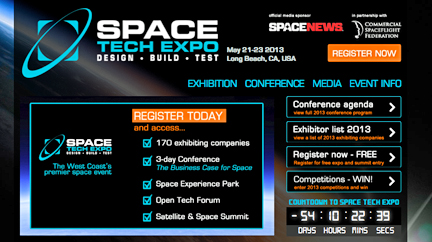 [SatNews] Space Tech Conference will be held on May 21-23, 2013, in Long Beach, California, at the Long Beach Convention Center in Hall A and will...
...bring together high-profile market players and industry specialists to discuss the pressing business issues facing the space industry. Under "The Business Case for Space" theme, the 2013 conference will address core challenges and opportunities in space commercialization, commercial crew and cargo, space tourism, space launch systems, space funding, technology transfer, International Space Station utilization, military requirements, and supply chain and acquisition considerations.
With budgets tight and spending under close scrutiny, the Space Tech Conference 2013 offers vital insights into purchasing priorities, acquisition requirements and supply chain opportunities. Prime contractors including ATK, SpaceX, The Boeing Company, Northrop Grumman, Pratt & Whitney, Rocketdyne and Raytheon will join representatives from NASA, the military, and The Aerospace Corporation to discuss strategies that continue to deliver excellence and innovation, while also driving down cost. The Space Tech Conference will take place as part of Space Tech Expo, a B2B exhibition for the design, test and build of satellite, spacecraft, launch vehicle and space-related technologies. The exhibit hall will feature more than 150 companies and organizations displaying their latest products, technologies and innovations including NASA, the National Reconnaissance Office, ATK, Raytheon, L-3 ETI, Space Systems/Loral, XCOR Aerospace—and many more.