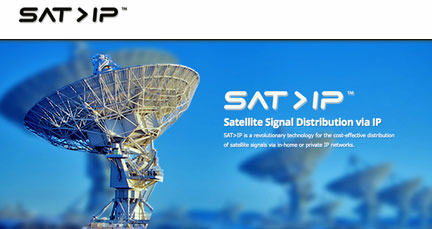 [SatNews] SES (NYSE Euronext Paris and Luxembourg Stock Exchange: SESG) is presenting a live demonstration of a pre-production eight-channel IP-LNB (low-noise block converter) at its stand at IBC 2013.
The IP-LNB is based on SES' SAT>IP technology and will deliver eight concurrent satellite programs in Ku-band in SD, HD or Ultra HD quality via IP unicast or multicast to fixed and portable devices. This new technology converts satellite signals directly at the antenna into IP signals before distributing them via Ethernet, power-line communications (PLC) or a Wi-Fi local area network (WLAN). The technology can be used for free-to-air (FTA) or pay TV applications.
This new technology enables satellite signals to be sampled digitally directly at the antenna, making the satellite spectrum data and other link-quality metrics accessible over the LAN. These advancements greatly simplify the satellite antenna installation and enable signal quality monitoring for operators.
The IP-LNB was conceptually developed by SES and is built by Luxembourg based manufacturer Inverto Digital Labs. The IP-LNB technology was first demonstrated at SES' Industry Days 2013 conference that was held on April 18 and 19 in Luxembourg.
The IP-LNB will be available in prototype quantities as of December 2013 and is expected to be available in the market in 2014. Visitors at IBC 2013 will be able to view the lP-LNB demo at the SES stand at Hall 1, stand B51.