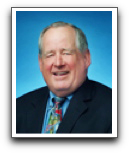 Space Systems/Loral (SS/L), a subsidiary of Loral Space & Communications (Nasdaq:LORL), has announced that Patrick DeWitt will be appointed to the SS/L Board of Directors as its Chairman and will relinquish his duties as Chief Executive Officer at the end of the year.
John Celli
, the current President and Chief Operating Officer, will lead the company's day-to-day operations. Mr.
DeWitt
will retire after serving with the company for 36 years. He will continue his involvement as Chairman of the Board, focusing his support on strategic initiatives. Beginning as a financial analyst, he went on to the lead the company through some of the industry's most difficult years. He demonstrated exceptional skill in navigating the company through a bankruptcy and bringing it back to the leadership position that it holds today.