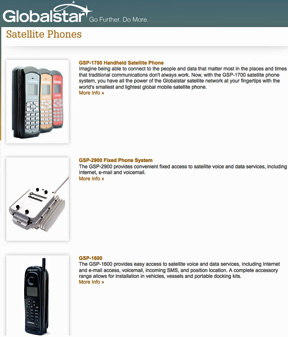 [SatNews] Reliable communications should be one of the first preparations businesses and individuals complete as the 2013
hurricane season begins. Satellite phones provide dependable communications, especially when cell service becomes unpredictable in the wake of a storm due to damaged cell towers and overloaded bandwidth. With the successful launch of the world's newest second generation LEO satellite constellation,
Globalstar
's satellite phones provide crystal clear voice quality with dependable coverage and are among the most affordable.
Following Hurricane Sandy, the need for satellite communications during a hurricane was apparent for the Flynn Power Plant in Holtsville, Long Island. Having access to regular communication during and after the storm proved to be invaluable. "Once the plant made the initial call via Globalstar, we all breathed a little easier," said New York Power Authority Principal Communications Engineer, Frank A. Miller. "The whole purpose of our Globalstar implementation over the years was for events just like this one. We are quite satisfied with the service we received in the time of this emergency."
The National Oceanic and Atmospheric Administration recently released its predictions for the 2013 Atlantic hurricane season and forecasts above average storm activity. Three to six major hurricanes (Category 3 or higher) could impact the United States with conditions particularly favorable for storm formation this year.
"Globalstar is committed to providing lifesaving communications across the globe," said Jay Monroe, Globalstar Chairman and CEO. "We are the most affordable satellite phone provider available, and coupled with our crystal clear voice quality our customers are receiving superior performance whenever they pick up a Globalstar phone."
Globalstar's GSP-1700 satellite phone is an ideal unit. Lightweight and compact, the handheld phone is easy to use and doesn't impede emergency operations. The backlist color display is optimal for outdoor daytime viewing and the battery life is longer than the industry average with four hours talk time and 36 hours standby. Globalstar's GSP-2900 satellite fixed phone system is ideal for business or home owners during a power loss. The system is installed safely and securely on a rooftop to bring a working phone line inside that can be connected to any standard phone. The GSP-2900 provides convenient fixed access to satellite voice and data services, including Internet, email and voicemail.