Telenor has awarded a contract to Hiltron Communications for the supply of a 7.6 metre K-band transmit/receive antenna system with tracking and full reflector de-icing.
The antenna will form part of the new
BSS Earth Station
at
Nittedal Teleport
near Oslo. With a staff of 50 operators and engineers, Nittedal is the largest of Telenor's teleports. The BSS Earth Station is being prepared for use with the
Thor 6
satellite, which will have 36 active Ku-band transponders servicing audiences in Scandinavia as well as central and eastern Europe.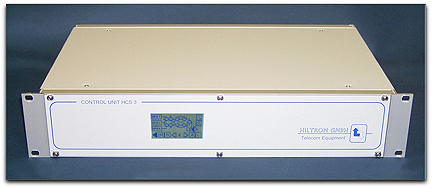 Hiltron
's
HCS3
is a modular system based on a 2U chassis, which can be equipped with single or dual AC or DC power supplies. The user interface comprises an optional touch-sensitive LCD display mounted on the front panel for local control. One of the two communication card slots (slot A1) is normally equipped with a network interface card module providing an Ethernet interface. The remaining 11 interface connection slots (A2 to A12) can be equipped with hot-pluggable card modules currently comprising: Monitoring, control and power supply for fibre optic modules; fibre optic N:1 switchover systems; LNB redundancy systems for C-band and Ku-band; HPA redundancy systems; Redundancy systems for DVB MPEG encoders/modulators/IRDs; Other applications for monitor and control.
Through its
Telenor Satellite Broadcasting
(TSBc) division, Telenor provides extensive television broadcasting services for distribution and contribution applications to broadcasters throughout Europe using a hybrid network comprising terrestrial circuits, teleports, and its satellite fleet.
TSBc
operates at
1 degree West
. TSBc also delivers end-user connectivity and application services via satellite in Europe and the Middle East. TSBc has two main teleport locations , a teleport operation in Sofia, Bulgaria, and operates antennas from four other European locations. Nitttedal Teleport, near Oslo, Norway is TSBc's largest site with more than 30 uplink systems which can operate satellites in the viewable arc from
45 degrees West
to
66 degrees East
. TSBc's central London teleport has more than 10 antennas looking at satellites from 30 degrees West to 50 degrees East.