Isotropic Systems has announced a partnership with VT iDirect to create a first-of-its-kind satellite ground terminal with integrated modem technology designed to deliver broadband connectivity for a wide range of consumer and enterprise applications.

The agreement with VT iDirect, as the leading modem technology provider for fixed and mobility markets, and Isotropic Systems' disruptive optical technology and market-focused plan will create a revolutionary shift in the industry to unencumber high-throughput satellite (HTS) broadband.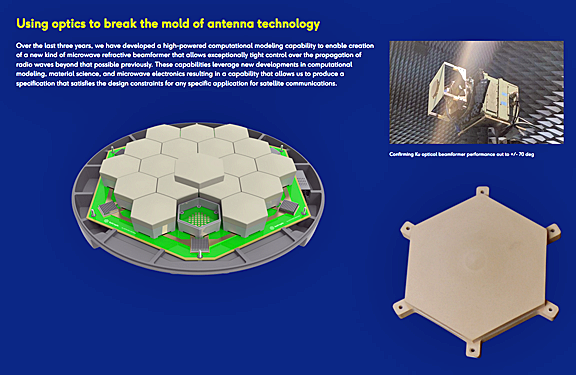 This effort will dramatically change hardware and user costs, revitalizing the economics for HTS communications across a wide range of enterprise and defense applications. While retaining compatibility with standard external modem interfaces, the modular support of a broad range of different modem technologies, combined with Isotropic Systems' multi-beam capability, offers service providers an unprecedented choice and flexibility, and significantly reduces the complexity of enterprise and consumer broadband deployment.
Additionally, Isotropic Systems founder John Finney will be the keynote speaker at SATELLITE 2018 in Washington, D.C. on Monday, March 12, 2018. More information is available here.
Isotropic Systems and iDirect invite show attendees to join them on Tuesday, March 13, at 10:45 a.m. at SATELLITE 2018 in Washington, D.C., Convention Center press room for a briefing regarding their disruptive technology for satellite broadband growth.
John Finney, the founder and CEO of Isotropic Systems, said that this agreement with VT iDirect is another step in the company's plan to dramatically alter satellite communications by changing the user economics enabled by our integrated technology and deliver high-throughput satellite services to untapped markets. The completely integrated solution the company launches with iDirect technology will deliver satellite data, mobility and broadband services at a fraction of the cost of existing ground systems. When HTS ground technology enables mass-market use of satellites, the industry will enter into a new period of unprecedented growth from any orbit or frequency.
Greg Quiggle, the VP of Emerging Products, VT iDirect, added that Isotropic System's unique optical technology introduces extraordinary value and efficiency to the global HTS markets the company serves. Building upon this with iDirect's integrated modem technology enables customers to realize lower terminal, installation and maintenance costs while proactively preparing for emerging multi-orbit networks.