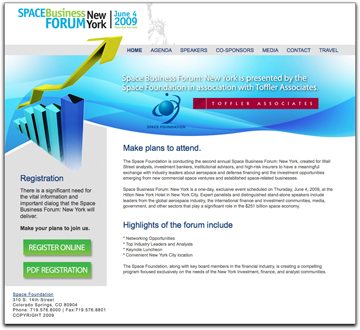 Gen. Victor E. Renuart, USAF, commander, United States Northern Command, and Thomas B. Pickens, III, president and chief executive officer, Astrotech Corporation, will headline the Space Foundation's second annual Space Business Forum: New York on June 4, 2009, at the Hilton New York Hotel in New York City.
Attendees who register by May 15 will receive a guaranteed spot in the space-limited event, as well as saving $200 and receiving a special advance electronic version of the
Space Foundation
's
The Space Report 2009: The Authoritative Guide to Global Space Activity
. Space Business Forum: New York provides financial analysts, investment bankers, institutional advisors, venture capitalists, insurers, and others from the financial community with the opportunity to engage in meaningful dialogue with space industry leaders. Discussion includes historical financial performance, outlooks and trends; business models, and business opportunities across the $257 billion space economy, which ranges from new commercial ventures to established businesses. In addition, the Forum will provide attendees with a look at government acquisition processes and the role of space in national security. Additional confirmed speakers, moderators and panelists include:
Anita Antenucci, managing director, Houlihan Lokey
Hoyt Davidson, managing member, Near Earth, LLC
Kenneth Gordon, president and chief executive officer, Antelum Capital Partners, LLC
Steven Kenney, partner, Toffler Associates
Lon Levin, president, SkySeven Ventures
Gwynne Shotwell, president, SpaceX
Heidi Wood, managing director and senior equity analyst for aerospace, defense and defense electronics, Morgan Stanley
Attendance is limited to ensure an intimate setting. Select the webpage graphic above for registration info.