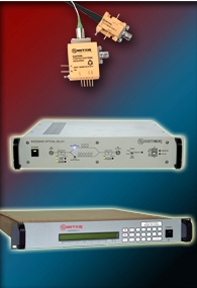 [SatNews] MITEQ will be displaying products at the 50th Anniversary AOC convention to be held in Washington, DC from Oct 27-30, 2013, Booth 1403.
Products on display will include the company's fiber optic links, their wideband switched optical time delays and their ultra-wideband EW up and down converters.
For 49 consecutive years, the AOC International Symposium and Convention has been the leading annual event for Electronic Warfare (EW), Information Operations (IO) and Electromagnetic Spectrum Operations (EMSO) professionals from around the world. This legacy is self-evident as we approach the 50th anniversary of the AOC Symposium and the AOC as a whole. The theme for this year's event is "Proud Legacy, Strong Future." The strength, passion and vision of the Electromagnetic Spectrum (EMS) Warfare community is strong today, and swiftly propelling the AOC into its next 50 years.