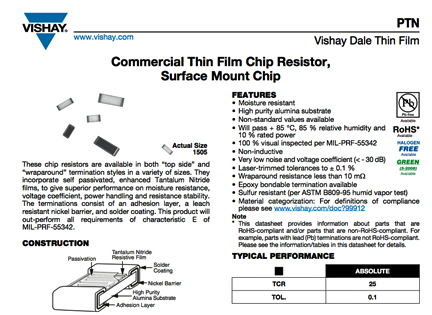 [SatNews] Vishay Intertechnology, Inc. (NYSE: VSH) has extended the power rating of PTN series precision surface-mount thin film chip resistors in the 2512 case size to 2W.
Built using a self-passivated, moisture-resistant tantalum nitride resistive film technology, the Vishay Dale Thin Film devices combine their high power rating with a low absolute TCR of ± 25 ppm/°C and laser-trimmed tolerances down to ± 0.1 % over a wide temperature range of -55 °C to +125 °C. The tantalum nitride resistive film of the PTN resistor assures a moisture-resistance level that exceeds MIL-PRF-55342 limits. This makes the devices ideal for use in low-noise, high-precision control systems for military, aerospace, telecommunications, and industrial applications where moisture during operation or long-term storage may be a concern.
The PTN series is offered in 13 case sizes from 0402 to 2512 and provides a wide range of resistance values from 10Ω to 3MΩ, with nonstandard values available. Featuring a high-purity ceramic substrate, the devices' wraparound terminations offer an adhesion layer covered with a nickel barrier and solder coating, and contribute resistance of < 10mΩ. Epoxy-bondable and lead terminations are also available upon request.
In addition to power ratings from 50mW to 2W, the PTN series offers low noise of < -25dB, low voltage coefficients of 0.1 ppm/V, and voltage ratings from 75 to 200V. The lead (Pb)-free devices are halogen-free, RoHS-compliant without exemptions, and conform to Vishay Green standards. The resistors are 100 percent visually inspected per MIL-PRF-55342 and sulfur-resistant according to the ASTM B809-95 humid vapor test.
Samples and production quantities of the enhanced PTN series devices in the 2512 case size are available now, with lead times of eight to 10 weeks for large orders.
For further details, please visit the Vishay Intertechnology infosite at.