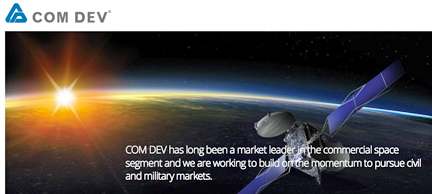 [SatNews] COM DEV International Ltd. (TSX:CDV) has announced that the CASSIOPE Satellite, developed by prime contractor MacDonald, Dettwiler and Associates Ltd. (MDA), was successfully launched carrying two payloads, both of which were installed with COM DEV technology contributions.
COM DEV contributed the Radio Receiver Instrument (RRI) to the science payload, called e-POP. It will probe the characteristics of the ionosphere and help scientists understand the cause and effects of potentially dangerous space weather such as the impact of solar storms on radio communications. The RRI was built in partnership with the University of Calgary. COM DEV also provided standard passive RF components and two novel high-speed Ka-band digital modulators to the Cascade payload. Cascade is a Ka-band high data rate, high capacity store and forward demonstration communications payload developed by MDA.
"We are pleased to have been able to contribute our expertise to both payloads aboard the CASSIOPE Satellite," said Michael Pley, CEO of COM DEV International. "Our contribution to the Cascade payload highlights COM DEV's capabilities at the Ka-band frequencies. The use of Ka-band technology is expected to continue to grow as the use of satellites to deliver high-speed broadband and multimedia information services keep expanding."
The CASSIOPE Satellite, made in Canada by MDA, with support from the Canadian Space Agency (CSA) and Technology Partnerships Canada, is comprised of three working elements that will use the first multi-purpose small satellite platform from the Canadian Small Satellite Bus program. CASSIOPE will operate in the LEO polar orbit.