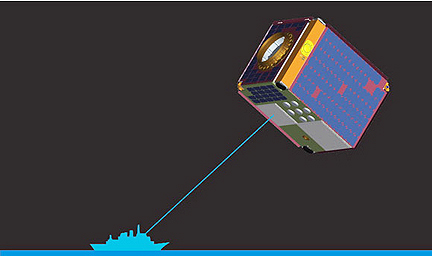 exactEarth Ltd., a subsidiary of COM DEV International Ltd. (TSX: CDV), has successfully used its space-based AIS (Automatic Identification System) technology, exactAIS, to assist the Canadian Forces (CF) and Department of Fisheries and Oceans (DFO) in monitoring illegal unregulated unreported fishing (IUU) activity in the Pacific Ocean.
  For several weeks, the Company has tasked its
NTS
nanosatellite to monitor a targeted region of the northern Pacific Ocean for the AIS signals that are required to be transmitted by several classes of ocean-going vessels. The exactEarth data has been combined with other surveillance information to enable the Canadian Forces and DFO to focus their surveillance and monitoring efforts on specific vessels suspected of IUU fishing.
"We are pleased our technology has been able to contribute to international efforts to ensure sustainable fishing practices," said
Peter Mabson
, President of exactEarth.  "This project illustrates just one of the many applications made possible by the exactAIS capability to detect ships from space rapidly over a wide area."
IUU fishing, in particular high seas driftnet fishing, has a devastating effect on marine life as nets up to 40-kilometres long catch everything in their path, resulting in depletion of valuable fish stocks.  The United Nations has maintained a moratorium on driftnet fishing since 1992, but the problem persists, with many non-compliant fishing vessels actively concealing their violations.  Canada through DFO is one of many countries cooperating in an international enforcement effort. The
Department of National Defence
engaged
exactEarth
to supply AIS data to assist in the monitoring and enforcement of IUU practices.  The AIS data from NTS was provided on a daily basis over the entire region of the IUU study — a region which spanned more than six million square kilometres in the northern Pacific Ocean.  As a result, the CF and DFO were able to target their monitoring efforts, which include aerial surveillance by Aurora maritime patrol aircraft, in a more efficient and cost-effective manner over this wide expanse.
The NTS nanosatellite was launched in April, 2008, to validate
COM DEV
's space-based AIS technology.  Having successfully completed its original mission, the 8-kilogram spacecraft continues to orbit the Earth every 90 minutes and remains fully functional.  IUU monitoring represents the first time exactEarth's AIS solution, exactAIS, has been deployed for operational, rather than demonstration purposes.