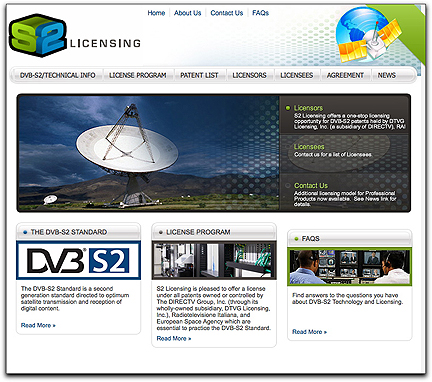 S2 Licensing has announced the Company will be present at IBC2009 in Amsterdam and all current and prospective consumers of DVB-S2 technology are invited to meet with S2 Licensing representatives during the course of the Exhibition to discuss S2 Licensing's offering under its suite of DVB-S2 patents.
For the convenience of adopters,
S2 Licensing
offers a license under the combined DVB-S2 patent portfolios (currently representing more than 20 patent families) of
DTVG Licensing, Inc.
, a wholly owned subsidiary of
The DIRECTV Group, Inc.
, the
European Space Agency
(ESA) and
Radiotelevisione Italiana SpA
(RAI). The license is available to all parties practicing or planning to practice the DVB-S2 standard, and provides favorable terms to speed adoption of the DVB-S2 standard. For consumer applications, such as satellite television STBs, a license under the combined portfolios is available for a one-time royalty of US$0.50 for each encoder or decoder present in a product for quantities exceeding 500,000 over the term of the license, and US$1.00 per encoder or decoder in lower quantities. Professional products may be licensed under any of multiple licensing models, for the convenience and at the selection of the adopter.
DVB-S2
(
Digital Video Broadcasting – Satellite, 2nd Generation
) is the second generation DVB system for broadband satellite communications, covering digital TV and HDTV broadcasting, interactive services, and professional links by satellite. DVB-S2 enables delivery of a significantly higher data rate (e.g., 30 percent) in a given transponder bandwidth than the previous DVB-S standard. Parties interested in scheduling a meeting with S2 Licensing at IBC2009 are invited to contact
John T. Whelan, Esq.
.