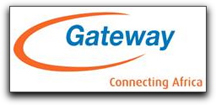 Gateway Communications has announced the acquisition of a 10.5Ghz spectrum license for 10 states in Nigeria.
The states are Kano, Kaduna, Rivers, Delta, Abuja, Edo, Oyo, Anambra, Abia and Enugu.
The acquisition follows
Gateway
's successful roll out of the
Airlink
(TM) and
MetroLink
(TM) 10.5Ghz spectrum solutions in Lagos and furthers Gateway's drive to build a pan-African connectivity network that covers every major African city based on satellite, submarine cable and terrestrial (fiber) infrastructure. Gateway will roll out services across the ten states in 2010, with Port Harcourt and Abuja scheduled to go live in February 2010 and the company has committed to roll out the solutions to a further 14 states in 2011. The acquisition continues Gateway's strategic expansion in Nigeria and investment in infrastructure. The AirLink and MetroLink solutions are targeted at fast growing medium sized businesses looking for a reliable and customised connectivity solution to help drive growth and operational capacity.