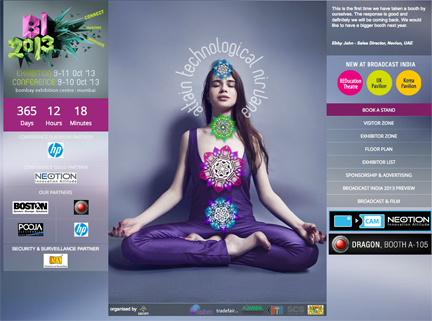 [SatNews] Saicom Trade Fairs & Exhibitions Pvt. Ltd. has announced that the 23rd chapter of the Broadcast India 2013 was held with great success on October 9-11, 2013, at the Bombay Exhibition Centre, Goregaon (East), Mumbai, India.
The event also witnessed a two day conference, held on the first two days, which saw a massive turnout of technicians, professionals, DOPs and various other visitors. With more than 550 companies showcasing and presenting live demonstrations of various products and services, Broadcast India 2013 witnessed a total of 15,346 attendees ranging from exhibition visitors, exhibitors and the press; congregating under one roof to set a common agenda, conduct business and share knowledge.
Talking about Broadcast India and the industry agenda, Alok Sharma, Country Manager—Media & Entertainment from Autodesk said, "There was a phase where the broadcasting and digital film industry was taking off where customers had limited access to the information they wanted. During this time Broadcast India helped bridge that gap and played a crucial role in technology adoption. People wanted events like Broadcast India to introduce their latest products showcasing the technology. I believe that if you want to display your technology or showcase any groundbreaking workflow solutions, events like Broadcast India do give you a good Return on Investment (ROI)."
Broadcast India 2013 is the largest and most comprehensive platform for the broadcast, film and infotainment industry which brought the very best from its content creation to management and delivery. Talking about the response in businesses conducted at Broadcast India 2013, Unimedia Technologies MD and CEO, Muneer Ansari said, "This is an amazing event where we don't see much of from India. With the response we got last year at Broadcast India 2012, we knew we had to make our presence felt this year as well. Broadcast India is a one-stop media solutions platform, all under one roof where-in companies gather from different parts of the world to showcase the added benefits they can provide existing Indian workflows."
With more than 35 participating countries, Broadcast India 2013 also opened with 55 new exhibitors delving into the Indian broadcast and infotainment market for the first time. Companies such as Veset, a Latvian cloud based data management solutions company, met with such a tremendous response that the CEO, Gratis Gailis revealed that they've already booked their slots for the 24th Broadcast India 2014 show.
The diversity of the show can be witnessed with companies like Panasonic, Sony, Blackmagic Design, Harris, GoPro, ARRI, AJA Video Systems, Autodesk, Adobe, Canon, Datavideo, Wasp3D, Ross Video, Yamaha, Harman, RCS, Carl Zeiss and Shure, to name a few, showcased their state-of-the-art equipment and cutting-edge technology. The other attractions were the new Pavilions of Korea and UK apart from the Bavarian Pavilion, all representing their respective countries.
The conferences that were conducted, addressed various workflow and current production pipeline issues that concern various media entities. Talking about their presence with Broadcast India 2013, Yamini Patel from Panasonic says, "We've been present with the show for over a decade and once again this year the show's been good for us where all our partners and ourselves included are happy to be a part of Broadcast India 2013.
As an added attraction, this year, Broadcast India along with RED brought REDucation, a workshop focused on hands-on learning with RED Digital Cinema camera packages which includes the Dragon, Epic and Scarlet camera series. The packed audiences at the workshop enjoyed and learned, stunning demonstrations and images shot with Red's latest Dragon 6K compatible camera series.
Visitors also received a glimpse of technology that could fuel and better the Indian media industry in the years to come. The highlights of some of the demonstrations included the benefits of the Davinci's Resolve 10 grading systems, Droidworx's Heli-Rigs, latest automation systems and a lot
more. Broadcast India is already taking bookings for its 24th Broadcast India 2014 edition, which will take place on 15-17 October, 2014 at the Bombay Exhibition Center in Mumbai again. For more information please visit www.broadcastindiashow.com.