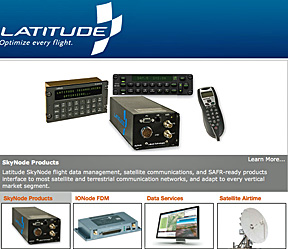 [SatNews] Latitude Technologies' IONode ION100 flight data recording and reporting device has been announced as a
finalist for the
2013 VIATeC Product of the Year Award
, a highly sought after prize in the annual
VIATeC Technology Awards Competition
.
Latitude
was a nominee in both the
Product of the Year
and
Innovative Excellence
categories in this year's competition.

Latitude President, Mark Insley, said, "Latitude is proud to be part of a vibrant technology industry here in the Pacific Northwest. I know there is great competition every year for the VIATeC Product of the Year Award. I am very grateful to the VIATeC Awards Jury for recognizing both the engineering that has gone into designing our IONode FDM device and the fast-growing customer acceptance of the IONode as the preferred lightweight flight data recording and reporting device around the globe."
The 2013 VIATeC Technology Awards Gala will be held on the evening of June 20, 2013 at the Victoria Conference Centre in Victoria, British Columbia.