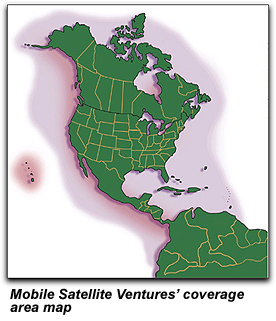 Mobile Satellite Ventures (MSV) has joined with the State of Washington's Military Department Emergency Management Division to launch the NorthWest Satellite Mutual Aid Radio Talkgroup serving public safety interests throughout seven states in the northwestern United States including Alaska, California, Idaho, Montana, Oregon, Washington, and Wyoming.
NWSMART
is the
fifth
in a planned network of nine, regionally-focused, locally managed talkgroups across the nation enabling critical and interoperable communications at all levels of public safety agencies and facilities. In coordination with
MSV
, the
Washington State Emergency Management Division
, including its state
Emergency Operations Center
, will manage, provide 24x7 monitoring, and approve participation in NWSMART by federal, tribal, state, and local public safety agencies — and appropriate private sector users with a public safety mission.
The NWSMART multi-state regional talkgroup is provided by MSV to facilitate rapid, reliable, and interoperable communications over satellite for public safety operations and emergency responders. Working with state and local public safety agencies, MSV has already helped establish regional SMART talkgroups serving 30 states throughout the United States and several U.S. territories. The family of talkgroups includes nationwide public safety and national security/emergency preparedness talkgroups managed by the
Department of Justice
and the
Department of Homeland Security
's
National Communications System
(
NCS
). All public safety organizations with active accounts on the MSV network are eligible and encouraged to join NWSMART, at no charge, by way of application to the Washington State Emergency Management Division. A copy of the
Standard Operating Procedures
and application are available from:
NWSMART@emd.wa.gov
or by calling
(253) 512-7035/7036
.