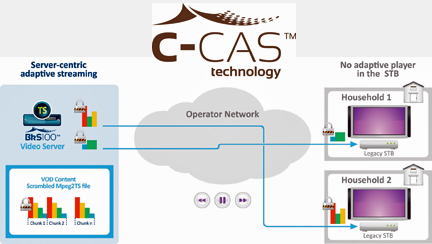 [SatNews] Broadpeak's new C-CAS technology was awarded "Best Network Technology for IPTV and OTT" at the...
...2013 TV Connect Awards presented by Informa Telecoms & Media at TV Connect 2013 in London. Broadpeak's C-CAS uniquely enables payTV operators to support HTTP adaptive streaming protocols while simultaneously remaining compliant with conditional access systems on subscribers' existing set-top boxes (STBs).
The TV Connect Awards recognize innovative technology solutions in the connected entertainment industry. Entries are judged by a panel of industry professionals comprising cable and telecom operators as well as independent experts. During the awards ceremony at TV Connect 2013, held March 20 in London, Broadpeak received a special plaque commemorating its technology achievement.
Using C-CAS, operators can cost-effectively deliver high-quality multimedia services—including HD video—over any broadband network. By dramatically lowering the cost of launching HTTP adaptive streaming video services, C-CAS enables pay-TV operators to maximize their revenue. Prior to Broadpeak's C-CAS technology, an operator wanting to deliver protected content in HTTP adaptive streaming would be required to upgrade the firmware of each and every legacy STB with a digital rights management system for content protection—a very risky and time-consuming undertaking given the large variety of STBs deployed and their limited resources. C-CAS allows operators to capitalize on their investment in existing STBs by supporting HTTP adaptive streaming in CAS-based STBs.