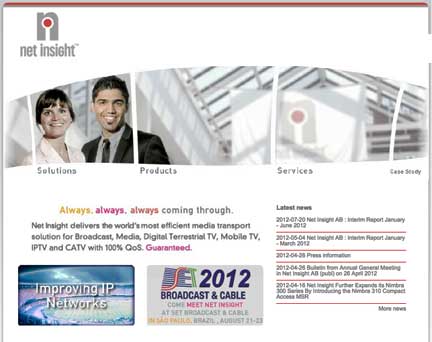 [SatNews] Net Insight together with TI Broadcast Solutions Group now have a partnership wherein...
...TI Broadcast Solutions Group will re-sell Net Insight's solutions for all IP networking requirements for its customers who demand the highest Quality of Service (QoS), network integrity, and utilization. Net Insight's media transport solution, the Nimbra MSR platform, combined with its Service-Centric network management system Nimbra Vision, will enable TI Broadcast Solutions Group's customers, which include corporations, state and federal government agencies, universities, professional organizations, and the religious/worship market, to deliver 100 percent QoS for digital video and network integrity for data.
As linear broadcast and telecom networks increasingly add non-linear data traffic, including video files to the IP infrastructure, and networks become more IT-based workflows, Net Insight's solutions drive higher network use and efficiency, ultimately benefiting TI Broadcast Solutions Group's customers in this new and demanding environment. Net Insight's solutions enhances IP infrastructures within the broadcast and telecom industry as well as directly addressing the need in the market to reduce operational costs.