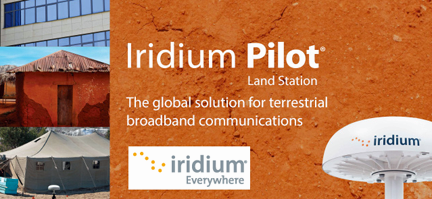 [SatNews] Iridium Communications Inc. (Nasdaq: IRDM) has expanded the reach of its cost-effective Iridium OpenPort® service to offer broadband communications to terrestrial users with the launch of Iridium Pilot® Land Station.
For the first time, many remote individuals and businesses in off-the-grid locations can obtain reliable Internet connections and voice calling, no matter where they are located. Iridium Pilot Land Station is an easy-to-install communications platform that makes connections where no other choice exists. Iridium Pilot Land Station provides pole-to-pole coverage and broadband data speeds, with independent voice lines for simultaneous voice and data communications. The ruggedized hardware utilizes the proven Iridium OpenPort broadband service, allowing operation in extreme weather conditions, making it the obvious choice for users with critical communications requirements.
"Iridium OpenPort has proven to be a great solution for maritime and aviation customers, and we expect to have the same success in the terrestrial market as well," said Bryan Hartin, Iridium's executive vice president of sales and marketing. "Iridium Pilot Land Station is another example of Iridium's strategy to provide cost-effective communications solutions for all types of users around the globe."
Iridium Pilot Land Station has a variety of potential uses, including:
Disaster recovery: Governments and emergency response organizations can quickly deploy Iridium Pilot Land Station to restore voice and Internet connections in stricken areas.
Remote education or humanitarian missions: For organizations providing education or humanitarian aid in countries without reliable telecommunications infrastructure, Iridium Pilot Land Station enables the communications they need to stay organized.
Science and exploration: Explorers and scientists can work from anywhere on the planet, easily staying in contact with colleagues. This is especially important when exploring remote, treacherous areas where other satellite coverage falters.
Business continuity: Whether due to an earthquake or a power outage, companies, governments and other organizations can rely on Iridium Pilot Land Station to provide a diverse connectivity solution independent of terrestrial infrastructure.
The Iridium® global network provides the only reliable communications solution for locations beyond 75 degrees north and south latitudes, and is a proven technology backed by years of testing and use. The unique Iridium constellation of 66 cross-linked low-Earth orbit (LEO) satellites provides inherent advantages over geosynchronous (GEO) satellite constellations; there is no need to set up for line-of-sight, and it delivers coverage over the entire globe, something other satellite providers cannot do.
Available immediately, Iridium Pilot Land Station redefines the entry price point for satellite broadband communications. Iridium OpenPort provides a range of provisioning and pricing options for voice and data services depending on individual needs. For more information on Iridium Pilot Land Station, visit the Iridium website at http://www.iridiumpilotlandstation.com/.