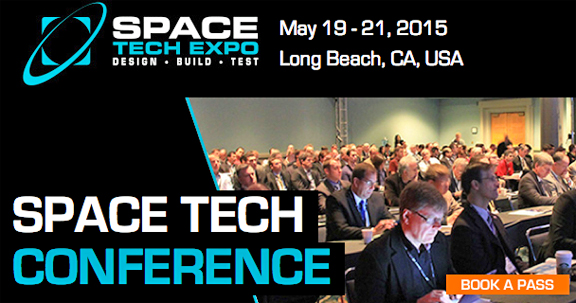 [SatNews] The
Space Tech Conference
will open its doors in Long Beach, California, to bring together the leading representatives of the military, government and commercial space sectors.
An unparalleled line-up of expert speakers at the three-day conference will showcase the breadth of innovation in the industry, and discuss issues and opportunities in solving the space sector's most challenging problems. With senior personnel from leading organizations—including, NASA, Orbital, SpaceX, Northrop Grumman Aerospace Systems, Space and Missile Systems Center, US Navy, DARPA, Air Force Research Lab and The US Army SMDC—coming together, the 2015 event offers unprecedented access to over 60 speakers delivering presentations and panel discussions on key topics relevant to established and new industry players alike.

New to the agenda this year is the SmallSats Focus Day. Led by Dave Barnhart from the University of Southern California, it will look at key considerations for the continued growth of smallsats, and ask: where is the real value in delivering affordable access to space and how can we realize it fully?

The 2015 event will open with a keynote address from NASA's Dr Tom Cwik, Head of Space Technology at the Jet Propulsion Laboratory (JPL), who will highlight current JPL projects, including results and their application to space missions, to examine advances in space technology for planetary exploration.

"Our expert speakers will deliver experience-rich insights into the trends, challenges, and innovations across the space sector," says Mindy Emsley, Conference Director. "The conference covers a lot in just three days, but resiliency, affordability and mission assurance are key themes underpinning the entire program and will be invaluable to all attendees."

High ranking officers including Major General Robert McMurry, Vice Commander, Space and Missile Systems Center, Terrence Feehan, Maj Gen, USAF Director of Strategic Plans and Requirements, Air Force Space Command and Rear Admiral Brian B. Brown, Deputy Commander, Joint Functional Component Command for Space, US Navy feature among a stellar line up of senior military leaders discussing how to evolve space architecture to meet future mission requirements.

The conference runs alongside Space Tech Expo, which hosts 180 companies from across the entire supply chain, from component suppliers to manufacturers of complete subsystems, engineering service providers to prime contractors. It is the largest supply chain exhibition of its kind.

Now in its fourth year, Space Tech Expo & Conference is firmly established as the West Coast's premier B2B space event for spacecraft, satellite, launch vehicle and space-related technologies. The show provides an invaluable opportunity to meet, debate and explore the possibilities with other key industry players.

Space Tech Expo & Conference 2015 is also co-located with the Aerospace Electrical Systems Expo, an exhibition and summit covering onboard electrical power in commercial and business aviation, and military aircraft, rotary and spacecraft. Further details of this event can be found at http://www.aesexpo.com.
For full exhibition and conference details, or to register to attend, visit http://www.spacetechexpo.com