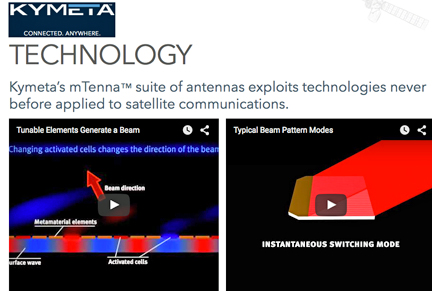 [SatNews] Kymeta Corporation and SHARP Corporation announce a development agreement to design products that will pave the way for cost-effective, mobile, satellite communications.
Under the agreement, SHARP will use its liquid crystal display production technology to manufacture Kymeta's new flat-panel satellite antenna, allowing both companies to create new opportunities for the satellite communications industry. Kymeta antennas use liquid crystal-based metamaterials to solve one of the satellite industry's longest-standing technical challenges: the need for lightweight, slim and efficient antennas that use software to electronically point and steer towards a satellite, eliminating the need for costly and cumbersome mechanical steering equipment and allowing for rapid setup and installation.
Enabled by Kymeta's mTenna™ technology, this suite of antennas uses a first-of-its-kind, glass-on-glass design concept that leverages the same components and manufacturing processes as SHARP's existing flat-panel display production lines. This means that SHARP can manufacture the Kymeta antennas using its existing production capabilities and, with little or no modification, produce electronically scanned antennas for mobile satellite communications.
Executive Comments
"Three years of intensive collaboration with SHARP have led us to a product design that can be manufactured utilizing SHARP's existing production capabilities. This is an important moment for Kymeta. By using a production technology that is already widely deployed in consumer devices, with over $250 billion of industry-wide investment in infrastructure and R&D, we will be able to mass-produce antennas on a scale previously unattainable," said Dr. Nathan Kundtz, CEO of Kymeta. "Sharp is an excellent partner for Kymeta because of its history and culture of innovation and releasing excellent products."
"We have over 40 years of experience bringing high-quality liquid crystal displays to consumers," said Atsushi Ban, division general manager of the Display Device Development Division of Sharp Corporation. "Working with Kymeta, we're able to create antennas thin and light enough to bring entertainment and connectivity to wherever our customers are."