[SatNews] The Space Foundation is now accepting nominations for its highest honor, the annual...
...General James E. Hill Lifetime Space Achievement Award. The award recognizes outstanding individuals who have distinguished themselves through lifetime contributions to the welfare or betterment of humankind through exploration, development and use of space, or through use of space technology, information, themes or resources in academic, cultural, industrial or other pursuits of broad benefit to humanity.
The award will be presented at a special luncheon on April 10, 2013, during the 29th National Space Symposium, at The Broadmoor Hotel in Colorado Springs, Colorado. The 2012 recipient was Gen. Thomas S. Moorman, Jr., USAF, Ret., former vice chief of staff of the Air Force. See more about the award at at this direct link.
The General James E. Hill Lifetime Space Achievement Award is presented annually in honor of its late, long-time chairman, Gen. James E. Hill, USAF, Ret. Past honorees have included Norman Augustine, Gen. Bernard Schriever, Buzz Aldrin, Peter Teets, Dr. Hans Mark and E.C. "Pete" Aldridge, among others.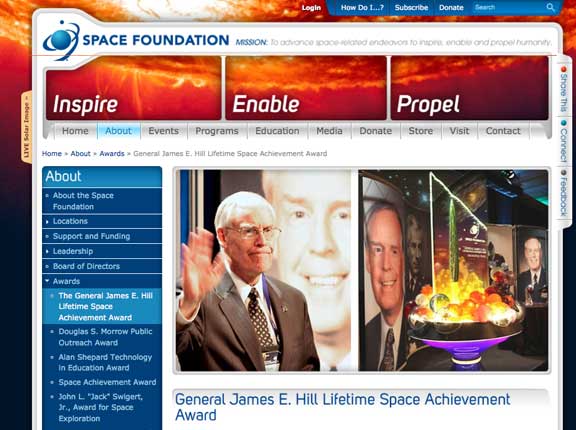 Anyone may nominate a candidate for this award on or before October 12, 2012; however, individuals may not nominate themselves. The nomination should be in the form of a letter, not to exceed two pages, addressed to Chief Executive Officer Elliot Pulham, Space Foundation, 4425 Arrowswest Drive, Colorado Springs, CO 80907. The Space Foundation Board of Directors will make the final selection. About the 29th National Space Symposium
The annual Space Foundation National Space Symposium brings together all sectors of the global space community to highlight accomplishments and address issues. The 29th National Space Symposium will feature forums, panels, presentations, speeches, special events and ample opportunity to hear from and network with the space community's most influential leaders.