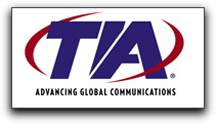 The Telecommunications Industry Association (TIA) has filed their comments with the Federal Communications Commission (FCC) to provide insight into factors the Commission should consider when evaluating benefits of spectrum being used for over-the-air television broadcasting or for wireless broadband.
"The expansion of next-generation wireless broadband is vital to our nation's economic, healthcare, education, security, public safety, transportation, defense, and environmental priorities," said TIA Vice President for Government Affairs
Danielle Coffey
. "For this reason, the Commission's examination of existing spectrum usage is crucial, given the recognized wireless broadband spectrum shortfall our nation faces as demand for terrestrial wireless broadband continues to dramatically increase. TIA echoes Chairman Genachowski's statement that, in order for America to lead the world in innovation, the Commission must have the strength to make difficult choices that serve the public interest through increased wireless broadband service, device, and application availability."
"With effective spectrum management policies that make sufficient spectrum available for wireless broadband, the skyrocketing demand for wireless broadband data services, applications, and devices will provide a boon to our nation's economy," said
Coffey
. "Similarly, wireless network infrastructure investment could rebound with the availability of new services and greater opportunities for cutting-edge network deployment. Thus, the time is right for a thorough examination of how best to provide scarce spectrum resources for wireless broadband services."
TIA recommended the Commission consider wider bandwidth allocations — in at least 20 to 30 MHz blocks — which are needed for future data-intensive wireless broadband services and will offer performance advantages that will allow resources to be pooled among users. This, in turn, will enable service providers to support more bandwidth-intensive services for more users, driving demand and revenue. Yet without these larger allocations in the coming years, provision of the data services consumers demand cannot be realized. As a result, consumers will not have access to the broadband services and applications that will drive smartphone and other broadband equipment sales. Thus, the failure to provide wider bandwidth spectrum allocations for wireless broadband services will have a "domino effect" that will severely chill revenues forecast to drive the wireless industry's revenue growth. TIA urged the Commission to create a new, innovative, and technology-neutral spectrum band plan, and commends its focus on evaluating the relative public benefits of spectrum allocations for over-the-air broadcast television versus those of wireless broadband.