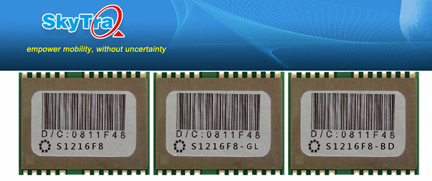 [SatNews] SkyTraq Technology Inc. has introduced a highly-integrated Venus816 single-chip GPS receiver capable of supporting dual passive antenna and active antenna inputs, automatic switching from passive antenna to active antenna, and active antenna short circuit protection without the need of extra external components.
The single-chip GPS receiver offers the lowest BOM cost for antenna embedded GPS products needing external active antenna option. The Venus816 includes two RF inputs with integrated antenna switching and external active-antenna current detection. A high-linearity on-chip 20dB gain 0.9dB noise figure LNA is used with one of the inputs, offering cascaded system noise figure of 1.2dB, allowing Venus816 to be used with passive antenna without the need for additional external LNA device.
The Venus816 works with GPS, QZSS, and SBAS signals, features industry leading 40Hz update rate, 29sec cold start TTFF, -148dBm cold start sensitivity, -165dBm tracking sensitivity, multipath suppression, jamming mitigation and reporting. It comes in 5mm x 5mm QFN40 package. A minimum of 6 external components is needed to form a working GPS receiver.
Venus816 engineering sample, evaluation kit, datasheet and reference design are available in late of October; mass production begins in November.