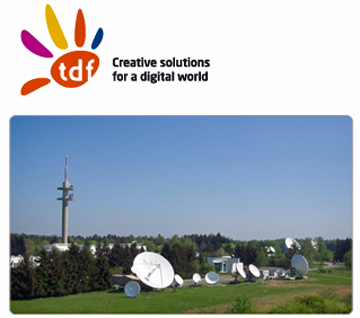 [SatNews] TDF Media Services has launched its brand new over-the-top (OTT) platform and are also presenting a complete range of HbbTV and OTT solutions during IBC2013.
Offering a solution to the screen fragmentation, it enables its customers to go multiscreen, improving the quality of experience of their end-users, bringing TV everywhere. Specially focused on quality of service, it has deployed a 24/7 fully monitored OTT platform with full redundancy and high SLA commitment, to provide broadcast quality over broadband.
Some of Europe's most popular services of the OTT landscape already trust TDF Media Services' OTT platform. Many International references have chosen its end-to-end solution, such as HBO Nordics for its multiscreen SVOD services, Film2Home for its VOD service, Canal +, for its multiscreen pay-TV bouquet with stream encryption and DRM, Bouygues Telecom for its TV everywhere service on TV, PC, tablet and smartphone, and Tevolution, a complete TV offer via its OTT STB.
TDF Media Services' OTT platform is an end-to-end solution enabling the management of media on every screen, either live or on-demand. The platform powers the complete service to provide both the best TV everywhere experience and a multiscreen video on demand offer. It enables encoding, DRM encryption, metadata processing, delivery through its own CDN and can also provide back-office tools for the management and monitoring of video on demand stores on a SaaS mode.
TDF Media Services is presenting their product at their IBC2013 booth, 1B79.