SatSignature has launched the world's first spectrum analyzer-in-the-cloud service, offering live 24/7 global satellite spectrum monitoring, recording and analysis in easy-to-use, web-based subscription package that allows satellite networks and users to instantly access spectrum monitoring on-demand across entire satellite regions around the world.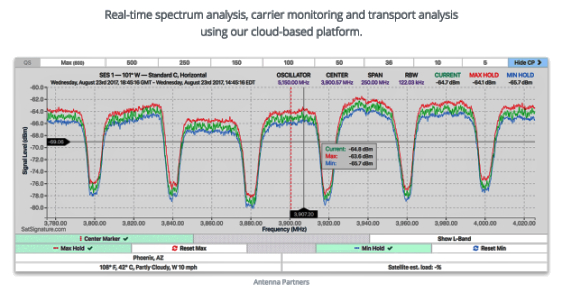 SatSignature services enable satellite networks to monitor their carriers of interest online — enabling them to save time and money, while improving quality of service — users enjoy typical spectrum analyzer functions and can access spectrum plots in just mouse clicks via web, mobile, and smartphone devices.
SatSignature users can monitor their own carriers, as well as other spectrum across major satellites — with zero monitoring infrastructure deployment and ownership. With SatSignature's no-CAPEX/no-IT-burden cloud service, organizations do not have to buy spectrum analyzers, receivers, RF switches, and downlink infrastructure.
Further increasing ROI, organizations incur zero IT overhead for software installation, maintenance and training that normally come with on-site spectrum analysis/monitoring systems. SatSignature lets a virtually unlimited number of simultaneous users view and analyze spectrum on all monitored satellites around the world in just clicks, unlike typical site-limited, single-satellite installations.
Zuhair Muakkit, Co-Founder of SatSignature, said that from satellite Network Operations, to service providers and teleports, from VSATs to Broadcast and SNGs, SatSignature can help improve efficiency and uptime, save time and money as well as reduce interference and errors.