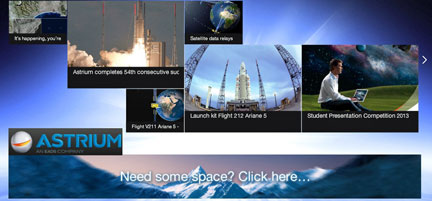 [SatNews] Astrium and Inmarsat (LSE:ISAT.L) have reached a strategic distribution partnership agreement which will see Global Xpress services made available to Astrium Services' large partner and customer base.

Astrium Services will deliver Global Xpress high-speed broadband services through its worldwide distribution channels. The strategic agreement will cover key vertical markets, including the maritime as well as the government and defense sector, initially in Europe. In due course the Astrium Services Global Xpress offering will encompass all service types—packaged services, bandwidth capacity, as well as commercial and military Ka-band.


Inmarsat's Global Xpress Ka-band satellite network will provide a seamless worldwide broadband service. The first Global Xpress satellite was successfully launched on 8 December 2013 and is on schedule to achieve global coverage by the end of 2014. Astrium Services customers will benefit not only from the world's first globally available mobile broadband network, but also from a comprehensive range of global connectivity services designed for commercial and government markets.

"This agreement is the natural continuity of a long-standing partnership between Astrium Services and Inmarsat," Evert Dudok, CEO of Astrium Services said. "Astrium Services has been Inmarsat's number one distribution partner since we acquired Vizada in December 2011. We are eager to continue this strong relationship by bringing the benefits of Global Xpress to our customers using our SATCOM expertise."

By adding Global Xpress to its portfolio, Astrium Services will also enable its partners and customers to further enhance their business capabilities and growth.
Additional information regarding Astrium is available at their infosite: http://www.astrium.eads.net/
Inmarsat's infosite: http://www.inmarsat.com/