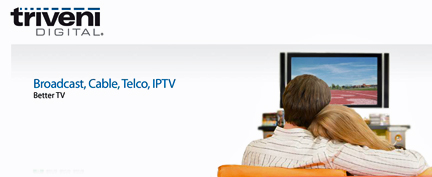 [SatNews] Triveni Digital has a new collaboration with Xstream to bring...
...video streaming services to the North American broadcast market. The two companies plan to work together to create custom tools and applications particularly suited for use by local broadcasters who want to enhance the options for consumers to access and view their content through Internet streaming. Triveni Digital indicated that the tools and technologies offered by Xstream are a perfect fit for its broader architectural initiative aimed at enhancing the services offered by local broadcasters.
The collaboration brings tools that can be deployed immediately by broadcasters for enhanced revenues, and planned extensions that will take advantage of other key initiatives that Triveni will be announcing, including the Open MediaHub, GuideBuilder® Plus, and the Avisor™ local news viewing system.