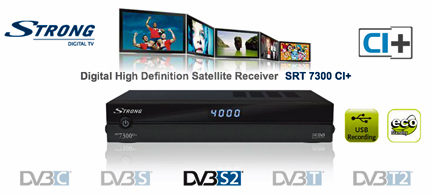 [SatNews] STRONG, a provider of consumer digital TV reception equipment in Europe, has launched the new Digital HD Satellite Receiver SRT 7004 for reception of digital Free-To-Air TV and radio programs in HD—the receiver supports SatCR, Internet features and much more.
The SRT 7004 can be connected with both newer HDTVs via the HDMI connector for clear and bright images in HD as well as with older TVs via the SCART connector. By connecting the SRT 7004 to a digital amplifier, such as a home cinema, via the coaxial output (S/PDIF) it promises powerful digital sound in Dolby® Digital Plus*. An installation wizard and pre-installed channel lists ensure quick and easy installation. The receiver supports SatCR (Satellite Channel Router) LNBs, such as STRONG's SRT L 780, which eases up the distribution throughout the home as there is no need for multiple cables running from the satellite antenna into the home. A simple four way splitter allows connection of up to four receivers** to one SatCR LNB. The SRT 7004 can be connected to the Internet through RJ-45 Ethernet for live RSS news and a five day weather forecast directly on the TV screen. The weather app displays the forecast for several user selectable locations. The RSS reader has a pre-installed list of interesting RSS channels, which can be customized according to personal preferences.
Many more convenient and useful features make the SRT 7004 reliable as home entertainment. It can be used for playback of multimedia files which are stored on an external USB storage device by connecting it to the USB connector either on the front or back of the receiver. To upgrade the receiver with recording and timeshift functions, STRONG will soon offer software at its webshop at http://www.strong.tv. The Electronic Program Guide (EPG) gives an overview of present and following event information up to seven days in advance. Thus there is no more wasting time searching for the best movies or TV shows in the newspaper. There is also the possibility to program up to 30 timers and eight favourite groups in which channels can be sorted individually.
*Dolby and the double-D symbol are registered trademarks of Dolby Laboratories
**All receivers connected to a SatCR system must support SatCR.