Asia Satellite Telecommunications Holdings Limited (AsiaSat - SEHK: 1135) has announced its 2009 interim results for the six months ended 30 June 2009.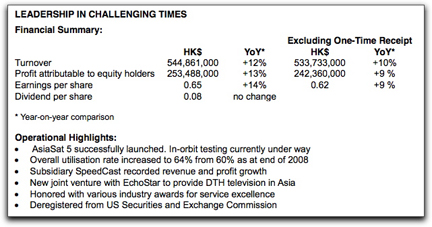 AsiaSat's Chairman,
Sherwood P. Dodge
, said, "The first half of 2009 has brought many positive signs. We are pleased with the performance of our core business. The launch of AsiaSat 5 embodies our long-term commitment to satellite communication in the Asia Pacific region. Going forward, we will continue to set industry standards for reliability and service excellence as we benefit from the strong growth fundamentals of the Asian satellite market." He added, "While our first half year performance was slightly higher than that of last year, we expect our overall 2009 performance to be similar to that of 2008. The costs associated with the launch of AsiaSat 5 combined with a further drop in investment income, have put additional pressure on our bottom line. While we have experienced a slight increase in renewals and new customers in the first half year, we are also seeing many of our major customers slowing their expansion plans as the global economic downturn"s effect on advertising emerges in our industry. The highlight of the second half year will be bringing AsiaSat 5, our newest satellite, into service. AsiaSat 5 was successfully launched in August and will finish testing in September. To read the entire financial report,
access this direct link
.