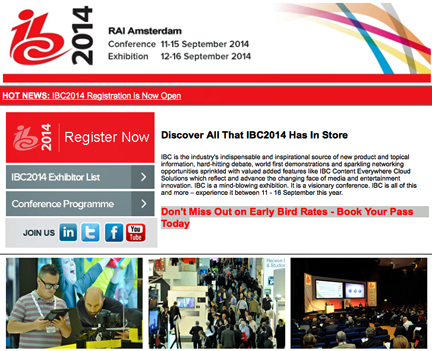 [SatNews] The upcoming IBC2014 exhibition and trade show in Amsterdam is offering a number of "must attend" features and events.
IBC Content Everywhere Hub
The IBC Content Everywhere Hub, located in Hall 14, hosts a program of free-to-attend case study presentations and product demonstrations exploring the diverse implications and opportunities arising out of content everywhere.
IBC Content Everywhere Cloud Solutions
As part of IBC Content Everywhere Europe, this new feature provides visitors with an engaging and informative schedule of presentations to evaluate the latest developments in this fast growing sector.
IBC Content Everywhere Workflow Solutions
This feature area, which is part of IBC Content Everywhere Europe. showcases the financial and production benefits of the disruptive technologies of tapeless production and allows visitors to compare and evaluate different file-based routes.
IBC Awards
The IBC Awards celebrate the outstanding contributions to the industry through technical application and, uniquely, the collaborations that made them happen. The IBC Awards are announced at the IBC Awards Ceremony which will take place on Sunday 14 September.
IBC Big Screen Experience
Hosted in the RAI's Audiotrium, the 1,700-seat cinema is equipped with the latest state-of-the-art projection and audio technology and is the perfect venue to host a series of free to attend sessions that will explore the world of 'Disruptive Cinema'.
Future Zone
Providing a preview of the future of electronic media straight from the labs, this popular feature is one of the first places to explore breakthrough technologies that could go on to shape the industry.
The IBC2014 Conference program may be viewed at this infopage.