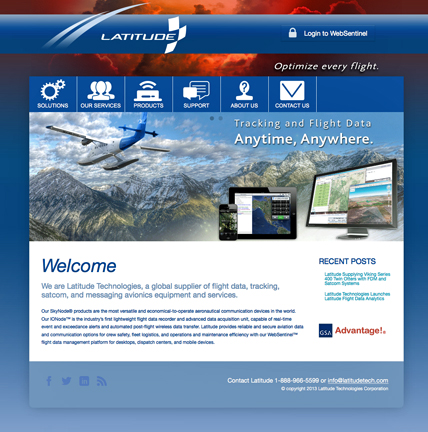 [SatNews] Latitude Technologies has launched a new public website at www.latitudetech.com.
The new website was designed and developed by US-based Branding Iron Advertising, Latitude's marketing, promotion, and publicity agency.
The new website is part of a comprehensive web strategy currently being rolled out by Latitude, which has also included installing a powerful new back-end for WebSentinel, Latitude's web-based flight following and mapping platform, and launching Latitude Flight Data Analytics, Latitude's recently announced web-based flight data analysis dashboard for the company's end-to-end FDM program. In 2014, Latitude will be introducing myLatitude, a web-based portal for customers to manage aircraft configurations and service levels for Latitude products and services deployed in the customer's fleet.
Latitude Technologies Corp., headquartered in Victoria, British Columbia, is a vertically integrated manufacturer and provider of flight data, flight following, and satellite communications equipment and services.