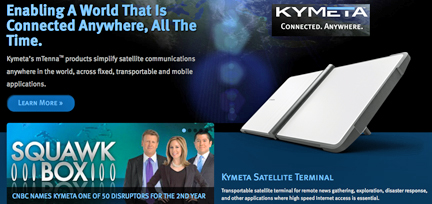 [SatNews] Kymeta Corporation has been named by CNBC as one of the World's 50 Most Disruptive and Innovative Companies for the second consecutive year.

The CNBC Disruptor 50 is an annual list of venture-backed private companies that are shaking up the landscape, threatening the status quo across industries and for specific market leaders.

"CNBC's recognition of Kymeta as an industry disruptor is a testament to our dedication to develop the most functional and elegantly designed satellite antennas in the world," said Dr. Nathan Kundtz, founder and CTO of Kymeta. "Kymeta's electronic beam steering capabilities for satellite communications will open a range of new mobility solutions in the aviation, maritime and automobile markets and are a good fit for spacecraft antenna solutions."

Kymeta's innovative antennas use metamaterials technology to electronically and dynamically adjust the antenna beam towards appropriate satellites with no moving parts. The technology enables flatter, thinner, lighter, more efficient and less expensive antennas compared to traditional satellite antenna technologies. Given the sleek design, Kymeta's flat-panel antenna products can be deployed in a variety of applications, enabling high-speed Internet connectivity and entertainment solutions anywhere in the world.
Kymeta will begin large-scale production of its antenna products, which can be manufactured with existing consumer electronics production technology and processes. This enables Kymeta to leverage the vast investment that has already been made in the consumer electronics industry, ultimately allowing the company to deliver its products to the market sooner and with lower manufacturing costs than are typically seen with comparable hardware.
Dr. Kundtz, who invented the technology, will appear in a live interview on CNBC's "Squawk Box" on Tuesday, June 17 at 7:40 a.m. ET.
Kymeta is expected to have prototype transportable units ready for field trials in 2014 with initial availability of commercial mobile products in late 2015.
For further details, please visit the Kymeta infosite at http://www.kymetacorp.com/