[SatNews] Satellite communications will lead the way for broadcast, broadband and cellular backhaul within Asia, says ETL Systems on the eve of CommunicAsia.
Furthermore, with the proliferation of mobile-connected devices and the need for on-the-move services, satellite networks remain the only dependable route as Asia continues to suffer from fragmented connectivity. The growing satellite signal technology company is urging the broadcast sector to increase content availability across multiple platforms, at a time when customer demands are driving technological advancements. Consumers expect a level of service which includes the reliable delivery of premium content, so satellite capacity must evolve and keep up.
Andrew Bond, Regional Sales Director ETL Systems, said, "Satellite service providers and operators want to push increasing amounts of content but find they are restricted on what they can provide, especially in a rapidly expanding market like Asia. "Broadcasters are serving a young and vibrant Asian market who demand streaming content onto phones, tablets and PC/TV's and I am always amazed when I visit Hong Kong and Singapore as to how many people are watching on the street. These broadcasters have to differentiate their programming, and satellite offers fast access to many national and international programmes to provide unique entertainment to a very technology savvy audience."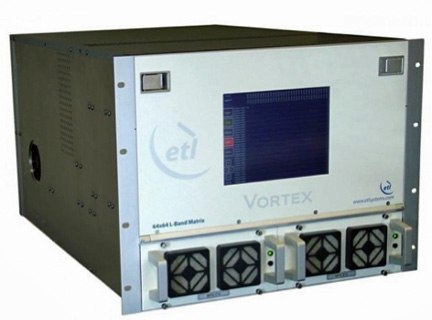 To help accommodate the demand for a strong robust satellite service, ETL will be launching one of its new additions to the V-series the 64x64 Vortex Matrix Router. This will be demonstrated at the company's exhibition stand (1U1-01) for the first time ever at CommunicAsia 2013. The Vortex Matrix Router is part of the V-series family which also includes the 128x128 Vulcan Matrix Router, the 16x32 Valiant Matrix and the 16x16 Victor Matrix. All units within this range have remote control capabilities via serial or Ethernet port with SNMP and web browser interface. ETL's full product range is designed and built at its headquarters in the U.K.