[SatNews] Intorel is announcing the latest version of its industry standard software for...
...monitoring and controlling systems: Visionic 5.2. More than 15 new device drivers were added so the library is always kept up to date. The alarm center has been adjusted as to increase the precision of all actions and macros that have been set up. The SNMP template builder has been improved to include drag-drop support, sorting of variables and more. In addition, the license detection mechanism has been changed, meaning that hardware changes, such as change of MAC address, do not affect the license.
Visionic 5.2 provides integration of all subsystems into a single, convenient solution, allowing for the connection, and operation of remote or in-house equipment in any way possible. Since 2002, the launch of the first version of Visionic, the product has been carefully revised and improved to become an industry standard, proven viable by hundreds of systems and recommended by the most distinguished companies around the world.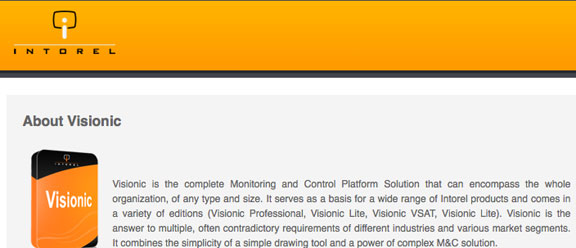 The Visionic 5.2 update is available now and the upgrade is free of charge for all clients who possess valid maintenance contract. A demo version may also be downloaded. Visionic is designed to be used by any industrial monitoring, controlling and automating application that requires reliability, automation and advanced features. In particular, Visionic products have been used for: DVB-S/S2 Satellite Uplink Stations, VSAT Systems, TVRO Systems, Fixed and Mobile Microwave Links, DSNG Systems, Fiber Optic Systems, DVB-T Encoding & Multiplexing Head-ends, ATM/SDH/PDH/IP Transport Networks and IPTV Head-ends.