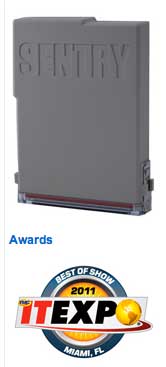 [SatNews] Flying with assets such as your pet, sports equipment or jewelry can leave you feeling vulnerable.
Delta Air Lines (NYSE: DAL) today announced an exclusive marketing agreement with OnAsset Intelligence, a leading provider of machine-to-machine (M2M) wireless asset tracking solutions, enabling Delta Cargo customers to view GPS location information on deltacargo.com.
The agreement offers exclusive features and enables a seamless user experience for tracking and tracing cargo in transit on a customized web page. The service will be available for all cargo shipments across the Delta and Delta Connection fleet, which operates more than 5,000 daily flights to more than 340 destinations, 61 countries and six continents.  
"Our agreement with OnAsset is a huge boost for Delta customers, who move high value cargo, to allow them to see where there shipment is every step of the way," said Neel Shah, Delta's senior vice president and chief cargo officer. "Offering GPS customers our complete network and combining active and passive tracking data into a single location will be a considerable advantage for their critical shipment needs."
Delta is the first airline to receive FAA approval for the SENTRY 400 FlightSafe® device on all Mainline and Connection flights, which allow shippers critical visibility of sensitive shipments in remote and rural locations. Delta is working with OnAsset to enable GPS tracking on other shipments such as pets as cargo, as well as specialty items like golf bags, hunting and fishing gear, and jewelry cases.
"We are pleased to announce our relationship with Delta," said Adam Crossno, president and chief executive officer for OnAsset Intelligence. "Closing visibility gaps with innovative solutions will enhance the supply chain significantly. We are proud to be a part of Delta's plans for today and in the future."
In addition to the integration of GPS track and trace information with deltacargo.com, the agreement also will enable Delta customers to benefit from preferred-rate pricing.  Information from deltacargo.com regarding flight status will also be available for viewing on OnAsset's Vision™ Platform – a web-based, enterprise platform, for the management of high volume fleets and automated shipment management for GPS-enabled cargo.