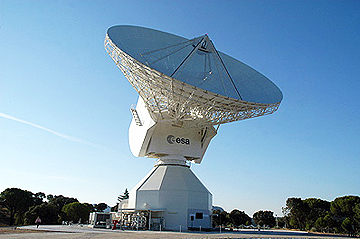 The European Space Agency (ESA) informed Argentinean authorities that an area 30 km south of the town of Malargüe in Mendoza province, about 1000 km west of Buenos Aires, has been selected as the best option to build a new 35m antenna in support of its programs — this is the first infrastructure to be built in Argentina by ESA.
The decision, which is subject to successful completion of negotiations, is the result of several months of evaluation among 35 sites in Chile and Argentina to establish ESA's third deep space ground station as part of the
ESA Tracking
(ESTRACK)
network. The Malargüe site is situated in a desert area, free from radio interference and with frequency usage guaranteed in the longer term by Argentina's
National Communications Commission
. ESA's deep space network currently has two 35m tracking stations, one in
Cebreros
, Spain, and the other in
New Norcia
, Australia. The third station in Argentina will join these and the seven other 15m stations forming the core
ESTRACK
network. The 600-ton dish will complete the 360-degree deep space coverage needed to ensure full telecommunications during mission-critical events and enhance the return of scientific data. The antenna will become operational from mid-2012 in support of scientific and exploration missions. The finalization of the legal framework with Argentina is anticipated end-August 2009, so as to allow for approval by the ESA Council in October 2009.