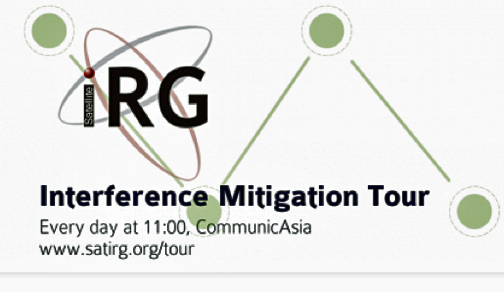 The Satellite Interference Reduction Group (IRG) has announced the return of the organization's popular interference reduction tours at CommunicAsia, which runs from May 31 to June 3, 2016.

With a number of important industry resolutions and guidelines pertaining to satellite interference, companies from across the satellite industry have a responsibility to put tools in place to reduce the effects of interference. This tour will give participants practical advice and guidance on the tools available, and what steps they need to take to become as interference-free as possible. This year's tour will continue to look at satellite interference as a whole, showcasing a number of cutting-edge technology innovations that enable the resolution of interference in a matter of minutes.


Exhibitors Confirmed as stops on the tour include: Comtech EF Data, ETL Systems, Eutelsat, Global VSAT Forum, Inmarsat, Integrasys, Kratos, Newtec, NovelSat, Siemens Convergence Creators, TeamCast, Verisat, and Work Microwave. The tour will also include a live DVB-CID specification demonstration on the DVB booth.
The tours will run every day during the exhibition at 11:00 a.m. and will start from the Meeting Point on Level 3. For further information, please select this direct link. Sign up is free at the CommunicAsia website—direct link.

"Over the past year we have seen a great deal of innovation, with a number of new tools launching to counter the impact of interference. If used effectively, these tools can significantly reduce the effects of interference, so that users will be able to experience uninterrupted service. The tour will give participants the opportunity to experience some of those innovations and understand how to resolve interference," said Martin Coleman, Executive Director, the Satellite Interference Reduction Group.