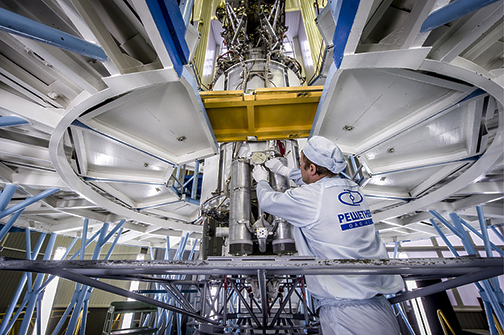 Russia's space satellite Glonass-M number 754 has been withdrawn from the orbital group, which now consists of 23 operational satellites.
According to earlier reports, global coverage will require 24 operational GLONASS satellites, including 18 to cover the Russian territory — 13 of the 26 satellites in the cluster are beyond the warranty date.
Satellite number 754 was withdrawn from operation for maintenance. It was launched on March 24, 2014, and commissioned on April 14, 2014 and has a guaranteed service life of seven years. Earlier it was announced that Glonass-M space satellite number 756 joined the orbital cluster on August 29. Launched on June 17, that satellite is to replace Glonass-M number 734.
Satellite number 734 has been suspended for maintenance. Last April, it went out of order andrequired nearly one month to restore the satellite to normal operation. It was then announced that, with the commissioning of satellite number 756 satellite, number 734 will be transferred to the orbital reserve. Glonass-M number 734 was put in orbit in December 2009 and commissioned in January 2010.
At the moment the GLONASS group consists of 26 satellites, including 23 operational ones (number 701 is undergoing flight tests). Five Glonass-M satellites are in reserve on the ground and another nine Glonass-K1 satellites in the manufacturing phase. Three batches of three satellites are to be delivered in 2019, 2020 and 2021. The Information Satellite Systems Reshetnev company keeps working on multi-functional satellites of the next generation Glonass-K2, due to be orbited next year.
Earlier, the Reshetnev company suggested launching another Glonass-M satellite from the Plesetsk space site in November, but Roscosmos corporation and the Defense Ministry have not made up their mind yet.
Article sourced from the Russian news agency, TASS.