Azercosmos is participating at the CSTB Telecom & Media 2020 International Exhibition of Television and Telecommunications in Moscow that runs from January 28-30.
The CSTB exhibition has been held in the field of telecommunications for more than 20 years. Here, the leading telecommunications companies from Russia and the CIS countries offer their satellite communications, broadcasting and digital media services.
During of the exhibition, Azercosmos signed cooperation agreements with Yuvelirochka channel of the Russian VES-Media company and TNV Planet channel of the Radio and Television company Noviy Vek based in the Republic of Tatarstan. According to the agreement, Yuvelirochka and TNV Planet channels will be broadcasted via Azerspace-1 satellite starting from February.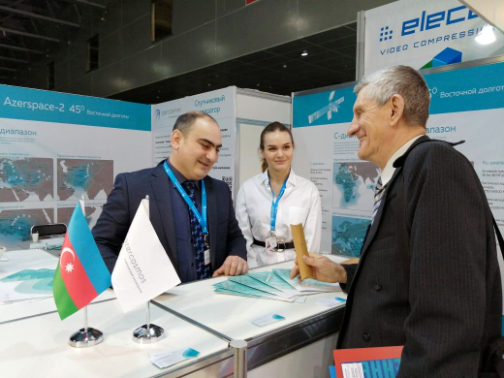 Yuvelirochka is a Russian 24-hour TV channel on jewellery sphere and broadcasts the history of jewellery, advertising of exclusive jewellery, as well as auction programmes in this area. TNV Planet is a television channel dedicated to the protection of the cultural heritage of Tatarstan. TNV Planet provides news, informative, entertaining, artistic and its production content in the Russian and Tatar languages.
Thanks to these new channels, the number of Russian channels broadcasted via Azerspace-1 satellite will get increase, meeting the growing demand for Russian channels in the region. This, in turn, will further popularize Azerspace-1 and its orbital position.
The broadcast frequencies of the mentioned channels:
- The frequency of Yuvelirochka channel is: 11095/H/30000
- The frequency of TNV Planet channel is: 11015/H/13000
During the exhibition, the CIS Regional Sales Manager at Azercosmos made a presentation to the visitors of exhibition about the activities of Azercosmos and its telecommunication satellites – Azerspace-1 and Azerspace-2.
Yulia Averkina, VES-Media Distribution Manager, said that thanks to the company's cooperation with Azercosmos, Yuvelirochka channel will be broadcast via the Azerspace-1 satellite not only in Russia and the CIS countries, but also in more than 30 countries of the world. VEX-Media believes that this channel will be of high interest to Azerbaijani viewers, as well.