[SatNews] Finally...communications from the intrepid Télécoms Sans Frontières on the Libyan border.
Mind boggling reports indicate that it has been
more than one month since Télécoms Sans Frontières was deployed on the Libyan border to help refugees. More than 330,000 people have fled Libya since the beginning of the uprising and still the needs do not decrease.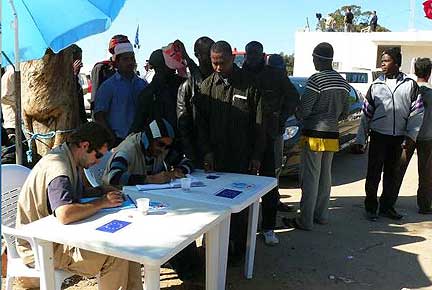 The TSF team on the ground
provided more than 28,000 international calls, 57,000 minutes, to 110 different calling destinations
. While these may sound like dry statistics it is important to remember that vital calls are to the benefit of more than 20,000 families who have taken refuge in the La Chucha transit camp.
By providing the means for those traumatized by the Libyan violence
to hear the sound of a familiar voice is incomprehensible for most civilized people.
Reports indicate that on
March 28th, for 70 percent of the refugees who benefited from TSF's humanitarian calling operations, this call was the first one they made
. The
silence before these calls must have been deafening
for their loved ones. Recently, relief organizations point out an inflow of refugees from Somalia and Cameroun on the border.