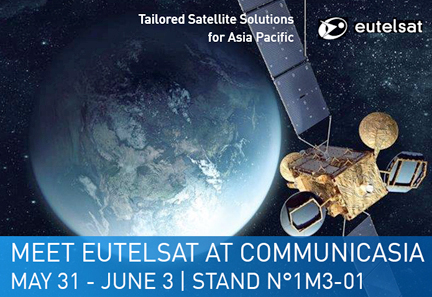 Meet the Eutelsat team at CommunicAsia and find out how the company can help grow business across Asia Pacific (APAC) and beyond.
Join the prime gateway for satellite services in Asia Pacific with EUTELSAT 172A at 172° East and EUTELSAT 70B at 70.5° East
Find out about EUTELSAT 172B, the innovative, high-capacity satellite with a unique wide coverage area stretching from Asia to North America, launching 2017
Extend the reach of your data and mobility networks with our flexible solutions for your connectivity requirements
N°1 partner for 220 Asian TV channels to deliver content to audiences in Asia Pacific and around the world
Additionally, on May 31 at 2:00 p.m., Jean-François Fenech, Eutelsat Asia CEO, is speaking on the panel: Successful HTS Deployment—Learning from Leaders in Europe & US.
Then, at 2:30 p.m. on the same day, Markus Fritz, SVP Commercial Development & Marketing, Eutelsat, is speaking in the 4K session: Immersive TV Experience via Satellite.
The Eutelsat booth is North 1M3-01.
If you would like to arrange a meeting with the Eutelsat team, please contact Charles Disneur.