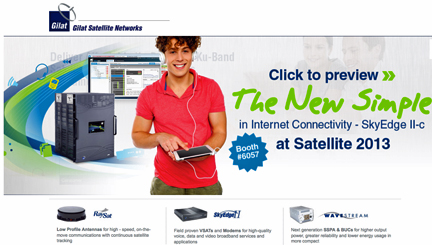 [SatNews] Gilat Satellite Networks Ltd. (Nasdaq:GILT) and Spanish satellite operator HISPASAT are expanding...
... the latter's broadband satellite-based network with an additional SkyEdge II system. The new contract marks the third segment expansion of the network launched in 2011 in support of the Spanish government's Avanza 100 percent broadband access program. The SkyEdge II system will support thousands of new broadband users residing in under-serviced areas across Spain expected to join the network by the end of this year.
As part of the network, Gilat's SkyEdge II system supports 32APSK Adaptive Coding and Modulation transmission to maximize space segment efficiency. Combined with the beam capabilities of HISPASAT's 1E satellite, the network can boast speeds of up to 100 Mbps per 36 MHz transponder. This is a key feature for providing high quality services for the residential sector at prices low enough to rival those offered by terrestrial networks.