iDirect Government (iDirectGov) has unveiled their most powerful Major Defense-Based software release, Evolution 4.2.
Evolution 4.2 unleashes the full capabilities of the 9-Series satellite routers, defense line cards and tactical hub. Evolution 4.2 also continues to support existing 8-Series satellite routers and eMxDx line cards.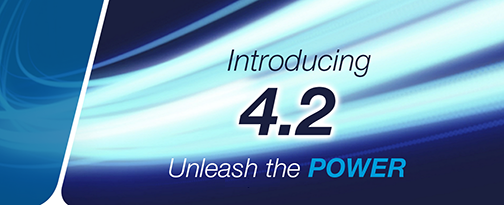 Evolution 4.2 delivers enhanced features in performance, efficiency and security in support of the company's defense and government customers. When used with the 9-Series, Evolution 4.2 boosts single carrier capacity to 29 mega-symbols per second (Msps) (previously 7.5 Msps in Evolution 2.3) as well as ten times improvement — with achievements up to 64,000 packet-per-second (PPS) of simultaneous traffic. These increased speeds and throughput are for intelligence, surveillance and reconnaissance (ISR) content, larger volumes of simultaneous voice calls as well as other bandwidth-intensive applications for land, air or sea.
Advancements to the existing multi-frequency time-division multiple access (MF-TDMA) waveform improves the availability of ultra-small disadvantaged terminals, thus improving reliability particularly for Communications-on-the Move (COTM) networks. These waveform enhancements enable its new 9-Series airborne solution to take flight.
Building upon its existing two-way transmission security (TRANSEC) which is approved by the National Security Agency (NSA), Evolution 4.2 introduces an improved user interface and one-way TRANSEC. This new TRANSEC capability comes with automatic over-the-air re-keying of one-way systems in support of the Global Broadcast Service (GBS). Evolution 4.2 also enables Multi-Protocol Encapsulation (MPE) to ensure backwards compatibility to existing GBS networks as well as Multicast Filtering to remove any duplicate channels.
Other enhancements made possible with Evolution 4.2 and the 9-Series include:
Multi-channel demodulation (MCD) TRANSEC with 16 Channel Returns on the DLC-R for more in-route density
Full Network Management System (NMS) support for the Tactical Hub
Fan In/Fan Out in support of Wideband Global Satcom (WGS) constellations
Security Content Automation Protocol (SCAP) service for Premium iSupport customers
Federal Information Processing Standard Publication (FIPS) 140-2 Level 3 certification on the TRANSEC module as found on the 9-Series and DLCs, making its products more secure than ever before

John Ratigan, President of iDirectGov, said that Evolution 4.2 is the release the firm's customers have been waiting for — the technology allows them to continue the use of their 8-Series installation base and expand with the full power and performance of the 9-Series. The SATCOM software energizes and elevates both the 8-Series and 9-Series Satellite Routers and line cards, enabling iDirectGov customers to connect, command and coordinate their critical assets in the field better than ever before. This will result in next-generation satellite communications deployment for airborne, maritime and land-based customers.