Paradigm has released an enhanced version of the firm's field-proven, HORNET SATCOM terminal.
The HORNET is a modular solution, allowing the user to interchange between different sized antennas, RF head and modem modules. This provides a single SATCOM solution for many different operational requirements. The terminal is environmentally rugged yet still lightweight and crucially can now be packed into an airline-friendly single case.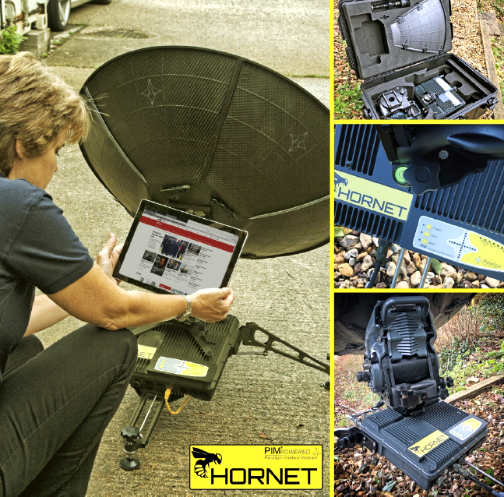 The HORNET integrates the easy-to-use and field-proven PIM (Paradigm Interface Module) which allows any non-skilled user to point the antenna in just a few minutes.
Available modules for the HORNET currently include a choice of 60, 80 and 100 cm. antennas with RF modules between 5 and 80W; frequency bands cover Ka-, Ku- and X-band over both extended commercial and military ranges. The terminal is also modem agnostic, supporting all the main high performance modems.
The PIM is a rugged, field-proven, terminal controller operating in many different market sectors across 5 continents. It provides the 'brains' of a SATCOM solution and can work with any air interface to provide a common pointing experience across a whole range of manufacturers' terminals. Operators simply point the terminal using easy to follow onboard audio and visual cues. The PIM integrates into all the major satellite networks as well as a wide range of modems, supporting the major types including iDirect, Newtec, UHP, Comtech and Teledyne Paradise among others.Ulf Sandberg
Ulf Sandberg, Managing Director of Paradigm, added that by developing the firm's HORNET terminal into this incredibly versatile solution, customers can now purchase one system that will meet just about every SATCOM requirement. In the Paradigm demos, everyone has been extremely impressed with its simplicity, its ruggedness and its single-case portability.