A successful test with the U.S. Navy resulted in Telesat and Intellian demonstrating that a single antenna aperture can deliver outstanding maritime broadband performance while switching between satellites in different orbits. This testing revealed how the Navy and other USG customers can access high capacity broadband from commercial satellites in different orbits with robust links that provide improved security, flexibility and resiliency.
The U.S. military has shown growing interest in advanced commercial space systems, such as Telesat's LEO constellation, that can deliver highly secure and reliable broadband anywhere in the world with added benefits of global persistence, ultra-low latency, and rapid technology refresh.
The live testing used Ka-band capacity on Telesat's Phase 1 LEO and Telstar 19 VANTAGE high throughput GEO. Both satellites were connected to Intellian's v150NX, described as 'the first and only 1.5m Ka- convertible VSAT', a system supporting 2.5GHz wide Ka-band networks operating in GEO and LEO orbits.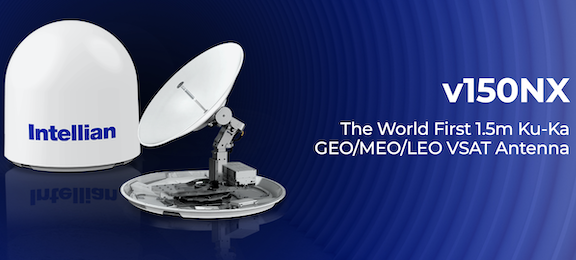 A senior official with the U.S. Navy's Communications and Global Positioning System (GPS) Navigation Program Office, Kurt Fiscko, Technical Director, PMW/A 170, PEO C4I, commented that live testing over Telesat Ka-band satellites with Intellian's 1.5m Ka convertible VSAT confirms that the antenna is an important innovation accessing space-based 'layers' of satellites in next-gen space architecture.
Eric Sung, CEO of Intellian added that the industry-leading performance, simplified installation and ensured compatibility with future constellations and networks positions their new 1.5m antenna as one of the most innovative, flexible and cost-effective connectivity platforms available for users on land and at sea. This joint demonstration with Telesat to the U.S. Navy was a complete success and they are pleased to see the capability of the antenna to operate on both Telesat GEO and the Telesat LEO network.
Don Brown, General Manager, Government Services at Telesat concluded saying that in addition to superior capacity, speed, security, resiliency, and low latency of the Telesat LEO system, the U.S. Navy can achieve additional economies of scale and flexibility through this Intellian antenna solution.