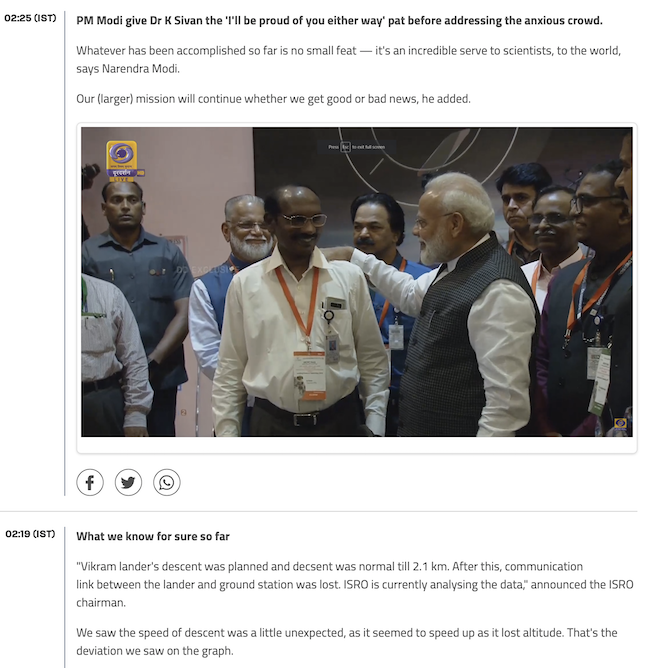 Information regarding the attempt to land India's Chandrayaan 2 on the Moon on Saturday, September 7 has not been achieved. The following is a timeline of what occurred at the IRSO Control Center.
08:18 (IST)
PM said that India stands in solidarity with our scientists
03:52 (IST)
Let's hope the Vikram lander hasn't met the same fate the Israel's Beresheet mission did last year ! That's all for now, folks! Looks like we're going to have to wait a little longer to hear more.
03:13 (IST)
Here's another theory about the lander's status from YouTube star/gamer/programmer/astrophysicist Scott Manley
03:11 (IST)
Announcement from ISRO coming in Unfortunately, it isn't about the lander. The planned post-landing press conference has been cancelled.
02:30 (IST)
An astronomer offers a compelling theory for what could have happened.
02:25 (IST)
PM Modi give Dr K Sivan the 'I'll be proud of you either way' pat before addressing the anxious crowd. Whatever has been accomplished so far is no small feat — it's an incredible serve to scientists, to the world, says Narendra Modi. Our (larger) mission will continue whether we get good or bad news, he added.
02:19 (IST)
What we know for sure so far "Vikram lander's descent was planned and decsent was normal till 2.1 km. After this, communication link between the lander and ground station was lost. ISRO is currently analysing the data," announced the ISRO chairman. We saw the speed of descent was a little unexpected, as it seemed to speed up as it lost altitude. That's the deviation we saw on the graph.
From
FirstPost